We're starting a relaunch of our              
Awesome Yoga Studio
Join us for our Open house full of
free yoga class and some bonuses
                                Sat 9/29th  & 9/30th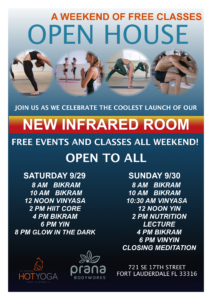 Come stretch it out with free
– Original Hot yoga (Bikram style) with all the teachers we love!
– Hot Vinyasa yoga (flow) with teachers Danielle Petrie and Nicole Fox
– Core HIIT with the amazing Brian O'Donnell
– Warm Yin yoga (restorative / relaxation yoga) with Stephanie Miller
And don't miss our BONUS SPECIAL CLASSES:
— Party fun Black Lights "Glowga" class Saturday night with Pachi Shanaberger
— Our free holistic nutrition seminar Sheila Schegler
— And our super "Chillaxed" Meditation class on Sunday
Most people don't realize that yoga practice is a tradition based on
creating maximum health in the body and mind vs just plain old fitness.
The important detail here is that you can be fit but still be unhealthy,
BUT when you're healthy you're probably quite fit!
The definition of health is being free from ailment and disease,
a complete sense of physical, mental, and emotional well being.
This is exactly what a powerful yoga practice creates for you.
And don't worry you'll love what you'll see in the mirror too 😉
Be Strong | Gain Mobility | Eliminate Pain | Be You